Why We Love This
We love creating wax seals and this stove makes it extra special because you can mix and match the beads to create special colors and marbling effects for your wax seals. We love making lots of them at once using a glue gun, but this makes the process slower so it's perfect if you're making a few wax seals at a time. It takes roughly 1-3 minutes to melt the wax, depending on how hot the spoon is and your immediate environment.
Details
A mid-century modern inspired brass wax seal stove complete with a wax tealight candle and a pouring spoon. You light up the tealight to heat the pouring spoon, which melts wax beads to create wax seals. Best used with our Wax Seal Sealing Beads and Wax Seal Designs. Melting Spoon has a vegan leather sleeve for heat protection. Comes packaged in a luxury textured box for storage. 
WARNING: Product gets hot. Please put appropriate surface protection while heated and do not touch the brass holder while the tealight is lit. 


NOTE: Product is made of brass material which can develop a patina / discolouration over time. It is normal to receive a product with minor scratches due to the handmade nature of the production and will not affect the performance of the stove. 
Specifications
Stove Dimensions: 2.75 x 2.75 x 2.75 inches (7.5cm x 7.5cm x 7.5cm)
Spoon Length: 4 inches (10 cm)
Spoon Diameter: 1 inch (2.7 cm)
Customer Reviews
09/26/2022
Jennifer R.

United States
Absolutely stunning!
This brass furnace is absolutely amazing! It heats up pretty fast and melts my wax beautifully! And love the removable case that covers the handle, to protect your fingers from the heat. And it does get hot fast, so be careful when cleaning your spoon. And the best part of the furnace is that it's gold! Very classic. In LOVE!
09/30/2022
Written Word Calligraphy and Design
Aww I'm so happy to hear that!! :) Love what you've created with our stove!
09/26/2022
Satomi

Japan
wax seal stove♡
I was looking for a wax seal stove in Japan, but I couldn't find one that I liked. When I saw this design, I fell in love with this product at first sight and wanted it immediately. The brass design and leather handle are very stylish and cool. It's easy for beginners and I enjoy mixing lots of colors. Thank you for your wonderful product!
08/29/2022
Genevieve G.

Canada
WW - Wax Stamps and wax beads and sticks
I truly "Love" the WW - Wax stove with the wax beads. It comes in a beautiful box, which is excellent for storing the wax stove in between projects. The wax stove is well designed thus making it easy to utilize for melting the wax. I only wish I had ordered it earlier! However I am so happy to finally ordered it as I truly enjoy using it to make the wax seals. Thanks Karla!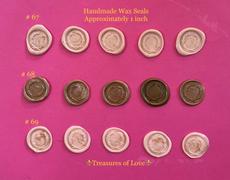 07/07/2022
Michelle W.

Canada
A lovely experience
When Karla introduced this little stove on her Instagram stories, I was thrilled. I had been having such a hard time with my other little burner making things so messy and the wax too hot, so I was instantly on board. I love the design, modern and sleek and the vegan leather slip for the handle was such a nice added touch. I have used it several times already and I'm in love. The spoon is the perfect size and the depth makes it easy to get that little bit more wax in for a perfect pour. The stand does get hot, so be mindful to place it on a coaster or something made for a hot surface. The art of patience and slowing down is key when using a stove and this one is no exception. Wax glue guns are great for large batches but stoves are meant to slow you down and be patient. To be mindful when we create something beautiful. Give it a try and romanticize your letter writing and stationery journey.
Absolutely adore this
I am new to wax seals but I have to say I am in love with this Brass Wax Seal Stove Kit! I am blown away at the quality of not only the stove but the wax. I have sent mail with the wax stamp seal staying completely in tact on the outside of the envelope and get so many compliments. It adds just the right touch of elegance. The brass stove itself gets hot so make sure not to touch it and touch only the sleeve of the spoon. I highly recommend getting multiple colors of wax as it is so fun to mix the wax colors together and get a marble effect that is just gorgeous!
09/30/2022
Written Word Calligraphy and Design
Oh that's so cool! So glad to hear that we were able to share our passion for wax seals. Would love to see what you made with it!
Add a special touch to your stationery with our botanical or monogram wax seals.