Why We Love This
We created these wax seals because we wanted a bespoke way to seal our wedding invitations. There's something so beautiful about bringing this old-world tradition into our modern-day wedding stationery, rendering them timeless. Each seal is engraved with letters written in our signature calligraphy style, Gossamer.
Details
This calligraphy wax seal set comes in a white textured box with a mid-century modern brass seal engraved with one chosen Monogram letter, and two gold wax seal sticks. The monogram letter is written in our signature calligraphy style.
The wax seal only option includes the brass seal in a cotton canvas bag.
The brass will develop a patina over time.
Specifications
The wax seal is 0.8 inches in diameter, 2 inches in height. The resulting wax seal diameter varies per product. The two wax sticks included may create 5-8 seals.
Customer Reviews
06/27/2022
Gene

Canada
Written Word- Wax Stamps
I truly love these wax stamps from Written Word Calligraphy. They are so unique, as on one end is the design and the other end is blank. The blank side can be used to add a dried flower, sprinkle of gold glitter, etc. I am slowly building my collection of these lovely wax stamps. At the moment I truly enjoy using the 8 stamps I purchased out of 47.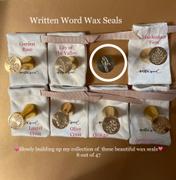 07/02/2022
Written Word Calligraphy and Design
Thanks Gene!! So glad you're loving them all!
Add a special touch to your stationery with our botanical or monogram wax seals.