Why We Love This
When I first made these, they were intended for my in person workshop students so that they could practice on their own after class ended. But now with my online Creative Calligraphy Course, they're a great supplement during and after the course, too! They are great for practicing to get better but also for some inspiring, meditative practice.
Details
A 65-paged practice pad for learning and developing your own modern calligraphy style. This practice pad covers the basic tools and how-to's, practice drills, lowercase alphabet, connecting letters into words, and words into phrases. It features 6 modern calligraphy styles to practice with.
The practice pad is printed on beautiful tried and tested calligraphy practice paper, and spiral bound on the top for easy tearing. Intended to be used with a pen, pointed nib, and sumi ink. Not suitable for fountain pen or fountain pen inks. 
Designed and Printed in Canada. 
Specifications
Each pad is 8.5x11 inches, and about 0.5 inches thick.
Customer Reviews
11/14/2021
Evelin M.

Hungary
highly recommend
The pratcice pad helps me develope faster! I really enjoy to use it. I really like the line guide! the pratctice pad is so useful because I can learn multiple fonts! I love this product so much!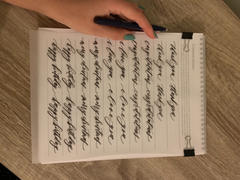 12/01/2021
Written Word Calligraphy and Design
Hi Evelin! I'm so so happy to see you practicing with our practice pad - you are doing amazing with it!! :)
A sneak peek into what's inside our Lowercase Alphabet Practice Pad.