Details
A signed copy of our Creative Calligraphy Made Easy Book, published in December 2020. 
Say hello to Creative Calligraphy Made Easy, our very own calligraphy book for beginners that includes all the how-to's to help YOU get started in calligraphy. It also has 24 pages of writable worksheets, so that you can practice and write directly on the book itself, including 30 stylish projects that you can create from your newfound calligraphy skills. The calligraphy projects include calligraphy cards, wedding and event calligraphy, hand-lettering projects for the home and gifts. The bonus section even includes information on how you can digitize calligraphy, as well as a resource guide for where to get your supplies and tools, for both calligraphy and hand-lettering.
Please include the name you would like in the Order Notes, or send us an email. Otherwise, we will ship it with the name in the Shipping Address.
Customer Reviews
06/30/2022
Lisa M. Foster

United States
Creative Calligraphy
The hostess, Karla Lim, has a book, "Creative Calligraphy Made Easy", that shows magical ideas using Calligraphy. This book came out in 2020 and is going strong in the fact that it is like seeing same things but in a new light. It is amazing to be able to look at another perspective on creativity as some of us just didn't get the creative gene in our makeup! I just love the ideas and seeing different usage of types where Calligraphy can be done and presentation is the key to making it happen for success or failure. It is a great resource book about modern Calligraphy as it shows how to start and learn with exercises for practice. Karla also has shown how to make creative cards, wedding events, gift wrapping, handmade gifts, hands lettered projects using Calligraphy. Overall, a great book and one that will be used a lot!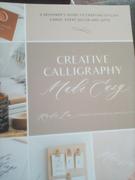 01/15/2022
Loreena N.

United States
Great book of projects
I have taken Karla's modern calligraphy course and loved it! It was my first intro to pointed pen. When she came out with a book, I had to check it out! I like how she put practice pages inside the workbook! There are so many cool projects to try as well! I have made Christmas cards and birthday cards so far. The recipients enjoyed receiving these in the mail and I had so much fun making them! Can't wait to try out the other projects in this book!
01/22/2022
Written Word Calligraphy and Design
Thank you so much Loreena, I'm so grateful!