Why We Love This
In December 2020, we launched our first book, Creative Calligraphy Made Easy. This book includes the basics of modern calligraphy, worksheets, projects you can create with calligraphy, but it doesn't include supplies. So, we created a Mini Calligraphy Starter Kit to go with it all. This bundle is perfect because it has a little bit of everything from supplies, how to learn calligraphy, and some extra freebies to bring this whole piece together. It's great for practicing, learning, and to gift to someone!
Details
What's included in this bundle
Signed Creative Calligraphy Made Easy book written to the name for Shipping
Mini Starter Kit (Dual-purpose calligraphy pen, 1 oz sumi ink, brass nib holder and keyring, Nikko G nib and Brause Steno nib, instruction guide)
Terrazzo and Alphabet Washi Tape
Tote Bag with Exemplar + Practice Makes Progress with case
Vegan Leather Coaster
Please email us with the name of the person to be signed, otherwise it will be written to the name on the Shipping. 
Specifications
Includes our signed Creative Calligraphy Made Easy Book, Mini Starter Kit, Tote Bag, Vegan Leather Coaster and Terrazzo+Alphabet Washi Tape.
Customer Reviews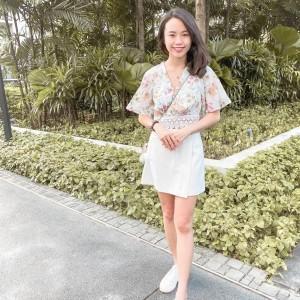 LT
06/30/2022
Lisa T.

Malaysia
06/23/2022
Lyn S.

United States
The Best Decision...
I want to tell you about this amazing course that I am taking from Karla at Written Word Academy. I have wanted to learn the Art of Calligraphy for many years now (I have been collecting pens, nibs, ink, etc. in preparation, lol), but I have put it off for so long, that I am now 72 years old and thought it was about time to "go for it"!! It started out with my purchase of Karla's beautiful book "Creative Calligraphy Made Easy" which I found in Barnes & Noble, and that got me onto my purposeful path. I watched some of Karla's videos on You Tube and found them to be exactly what I was looking for. At the time, I also researched other instructors & classes, but Karla has such a comfortable, easy manner and never having attempted Calligraphy, her approach was most appealing. The whole thing to learning a new art is rather daunting, I find, but I made the very best decision in signing up for 2 of her courses. Please know; I have learned so much already and am very excited in moving forward on this journey of mine. If you have a question – you get an answer. If you're having problems – you get assistance and patience. The course is done in such a way, that you can 'go back' if you find yourself stuck. There is no pressure; you go at your own pace. Absolutely perfect for me. I thank Karla and her crew with a full heart! Lyn Schuerger from Maryland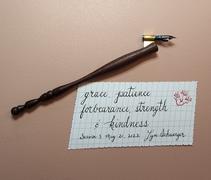 10/21/2022
Diane L.

United States
Beautiful Bundle
This bundle was just the beginning for me. I have calligraphy supplies but nothing like this set. I was concerned that it might not be as nice as the pictures but this exceeded my expectation. Karla has made the calligraphy tools a work of art in themselves. Thank you!
10/25/2022
Written Word Calligraphy and Design
Aww that's so awesome Diane! I'm so grateful to hear that!
09/30/2022
Diane K.

United States
most aesthetically pleasing package!
oh dear, where do I start.... I'm always excited for packages but I was especially for this one because, you already know Karla is the queen of aesthetics! I was VERY careful with opening this package because everything was so beyond beautiful! I got this bundle when Karla first launched this so got an exclusive pencil case with my name calligraphy-ed on it! This kit is great for starters to purchase as it comes with all the essentials you need to start! The book Karla wrote has so many fun/creative ideas to incorporate calligraphy into our daily things we see & use! You won't be disappointed!!! So many projects you can do with calligraphy! The book also has practice pads as well but I just use tracing paper on top so I can keep it like new! Everything is just so prettyyyy!! The book is also beautiful to display on your coffee table too :)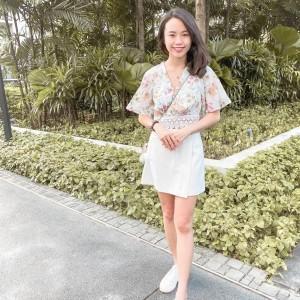 LT
06/30/2022
Lisa T.

Malaysia
Can't wait to do more craft!
This bundle is super awesome and well explained how to create some beautiful projects after you have learnt calligraphy. Unlock new skill for yourself!
Sneak peek of our Mini Calligraphy Starter Kit + Signed Book Bundle.