Why We Love This
The story behind making this beautiful product come to life was quite adventurous! This sparkly piece took so much research to figure out how to even make it come to life. Inspired by chopstick rests and a minimalist mid-century modern shape, we sketched piece after piece, worked it through with a 3D artist and CNC machinery specialist. We had to debate many ways to make this happen because this shape just doesn't exist! This meant every nook and cranny had to be planned but it's so worth it!
Details
Our Modern Inkwell and Pen Rest is our answer to the never-ending problem of not knowing where to put our pen when we just want to take a quick break. This inkwell is designed to hold many kinds of ink bottles. You can also fill the included 1 oz ink bottle with your own ink. The chopstick-inspired groove was created for resting your pen.
Packaged in a luxury paper box with a gold foil sleeve.
Inkwell: 4.5 x 2.5 x 0.5 inches

Ink Bottle with Bamboo lid: 1 oz

Material: Aluminum Alloy
Customer Reviews
09/30/2022
Jennifer L.

Canada
09/26/2021
Rossana M.

United States
Calligraphy Pen & Ink Well/Pen Rest
I love this set so much! I event got the Rose Pen. They both go hand in hand! I love the gold and love the rose in the pen. I'm excited to practice with my new tools! Thank you for taking time to perfect these beautiful calligraphy items!
10/14/2021
Written Word Calligraphy and Design
Aww Rossana! I'm so so happy that you love them! your writing is gorgeous!
08/17/2021
Lynda S.

United States
Inkwell + Pen Rest
I have been looking for a pen rest WITH an inkwell that is a single unit for a while. I usually find just the inkwells or just pen rests but rarely combined that is also aesthetically pleasing. When I saw that Karla had released this, I knew it was exactly what I wanted. It has a very sleek design, good weight to it, ink bottle that holds a generous amount of ink, and a perfectly angled rest for penholders. I love that the ink bottle holder part is slightly recessed so the bottle doesn't slide off easily. Would recommend this to anyone looking for inkwell + pen rest.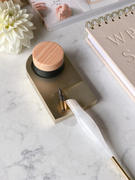 08/17/2021
Nicole T.

United States
The Perfect Combination of Beauty & Function
I love this pen holder! It's lightweight and the grip size is perfect for my hand. The ****** is durable and fits most of the medium size bibs that I use. The inkwell that I purchased is BEAUTIFUL. The brass base also serves as a penrest which is super convenient and the glass inkwell has a wide mouth perfect for dipping. It also has a heavy bottom so I'm never worried about my cats knocking it over! Overall, I'm very satisfied with my purchase and would highly recommend both of these items to anyone looking for a good pen holder and/or inkwell!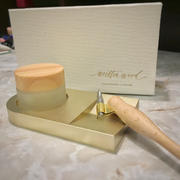 02/16/2023
Cat S.

United States
Required!
This purchase was as usual with Written Word, beautiful and practical I use it every day!
A sneak peek of our Modern Calligraphy Inkwell + Pen Rest.